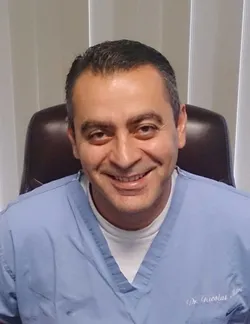 Dr. Nicolas R. Metri moved from Lebanon in 1988. Four years later, he received his Bachelor of Science in Biology from Northeastern University. He graduated from Tufts Dental School with a Doctor of Dental Medicine, DMD, in 1996. He practiced for 8 months as an associate in a dental office in West Roxbury before he opened his private practice and remained there ever since.
Dr. Metri is a member of the American Dental Association, The Mass. Dental Society, The Coastal MA ITI Study Club and is involved in local programs such as "CHIP " child identification program. He is regularly taking continuing education courses in all areas of dentistry. He believes that learning should never stop. Dr. Metri is dedicated to excellence and perfection. He takes his patients trust very seriously and commits himself to their care.
Dr. Metri resides in Braintree with his wife Rita, their daughter Sarah and twin boys Danny and Mark. Eating is his favorite hobby and luckily his wife is a great cook. He enjoys eating out, traveling, playing soccer with his kids and spending time with family and friends.
We Are a Proud